2016 NFL TV Schedule for Cord Cutters: Week 3
Watching the 2016 NFL Season Without Cable has Never been Easier
The competition is heating up as we steam roll our way into Week 3 of the NFL regular season. The Broncos' defense keeps on bucking, the Steelers' passing game along with DeAngelo Williams look unstoppable, and poor old Jacksonville can't seem to catch a break. But things are still early in the season, which means there's plenty of time for redemption and to knock the powerhouse teams back down to size.
Similarly, there is plenty of time to cut the cord. I hope that you can use this article, and the many written before it, as a guide to achieving sizable savings, while keeping the games and shows you love.
Can our undefeated teams keep the streak alive? Are you ready to make the leap and kill that cable bill once and for all? Let's find out! Here are this week's game that you can and should be watching.
**All Times in Eastern Time**
Week 3 NFL TV Schedule
THURSDAY NIGHT FOOTBALL – September 22 (Tonight)
Houston Texans vs. New England Patriots, 8:25 PM, CBS/Twitter
In our first battle of the unbeatens, we are in the unusual position where the Patriots are the underdogs. Without starting QB Jimmy Garoppolo, the Patriots have to rely on third string rookie Jacoby Brissett to deliver them to victory; which will be tough with a more experienced Brock Osweiler leading the Texans.
Fantasy Football Take: Texans Def could rack up huge numbers against this unproven QB.
SUNDAY FOOTBALL – September 25:
CBS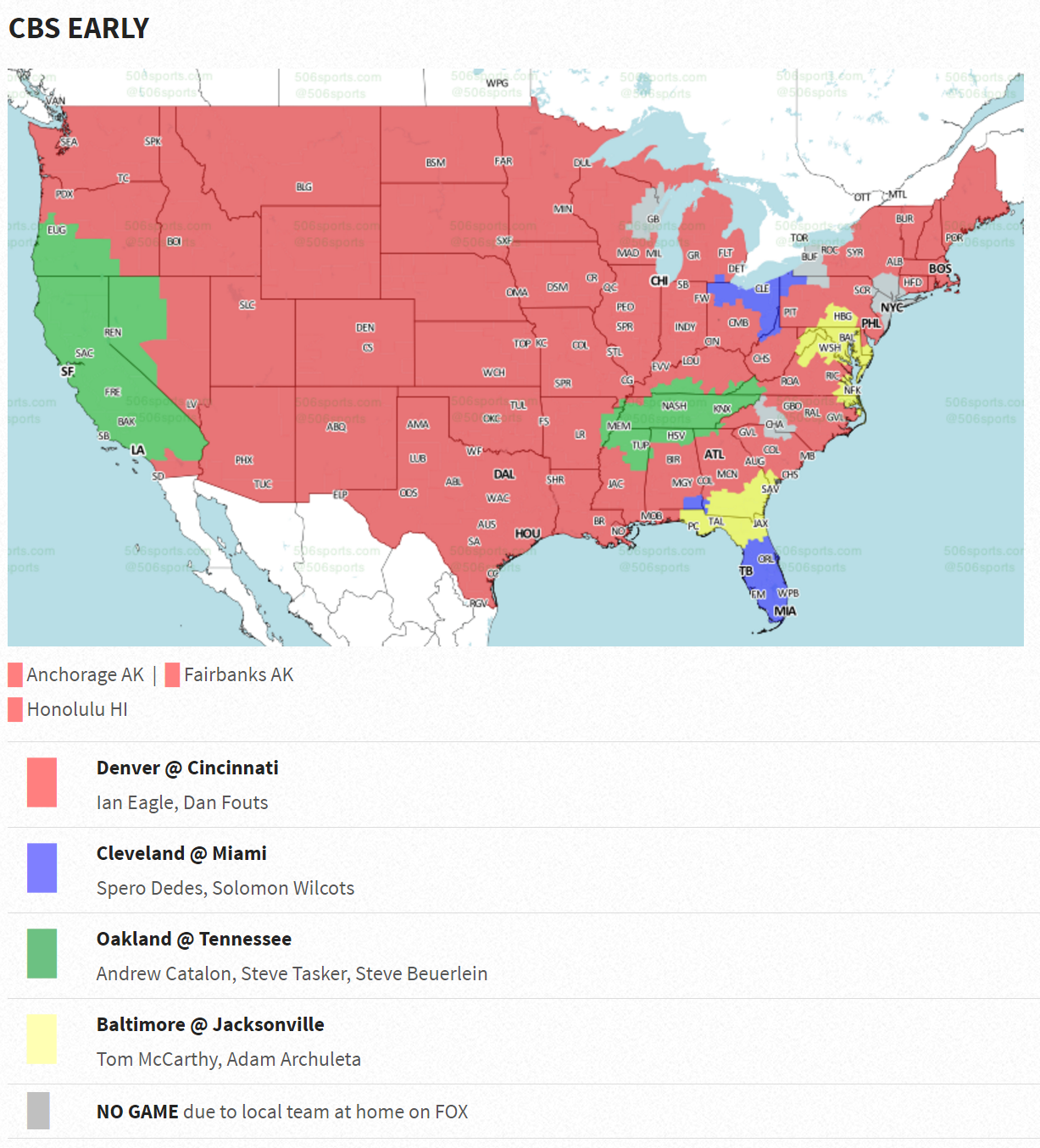 (Maps provided by 506Sports.com)
Denver Broncos vs. Cincinnati Bengals, 1:00 PM
Coming off of a painful defeat at the hands of Pittsburgh last week, the Bengals go into their opening home game with a lot to prove. But standing in their way is a very formidable Denver teams that's already put away two tough teams; Indianapolis and Carolina. Cincinnati has a record of doing well as the underdogs at home, but it's tough to say if it will be enough this week.
FOX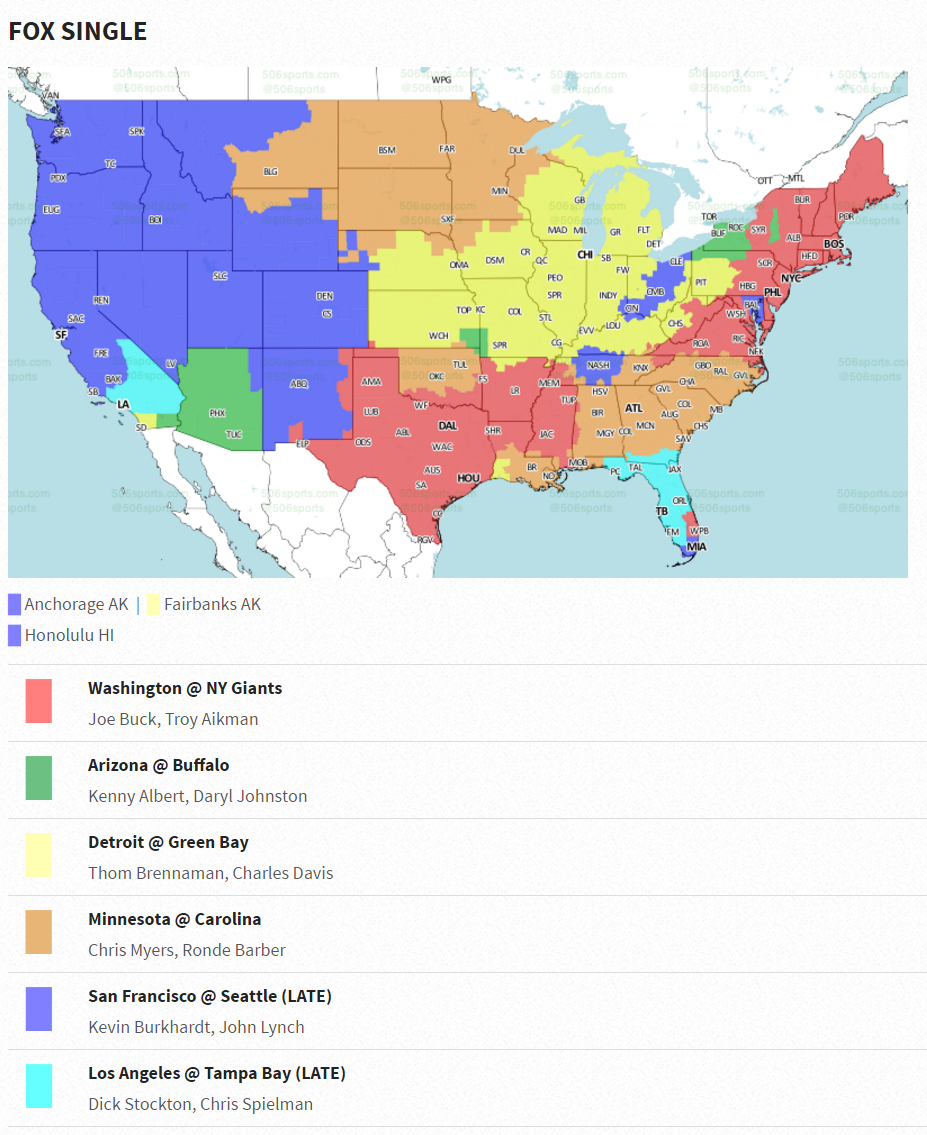 Washington Redskins vs. New York Giants, 1:00 PM
With no wins yet this season, Washington is looking to turn around what could only be described as a disappointing open to the regular season. They were routed by Pittsburgh, had their hearts broken by Dallas, and now they're in the cross hairs of the Giants. The Giants, on the other hand, look solid so far but without anything too impress, they still look pretty beatable.
Look for Cousins to either completely fall on his face and lose the locker room, or to air it out, racking up multiple TD's and proving all the naysayers wrong. Which way it will go, I wish I knew, but it will be interesting to watch – that is for sure.
CBS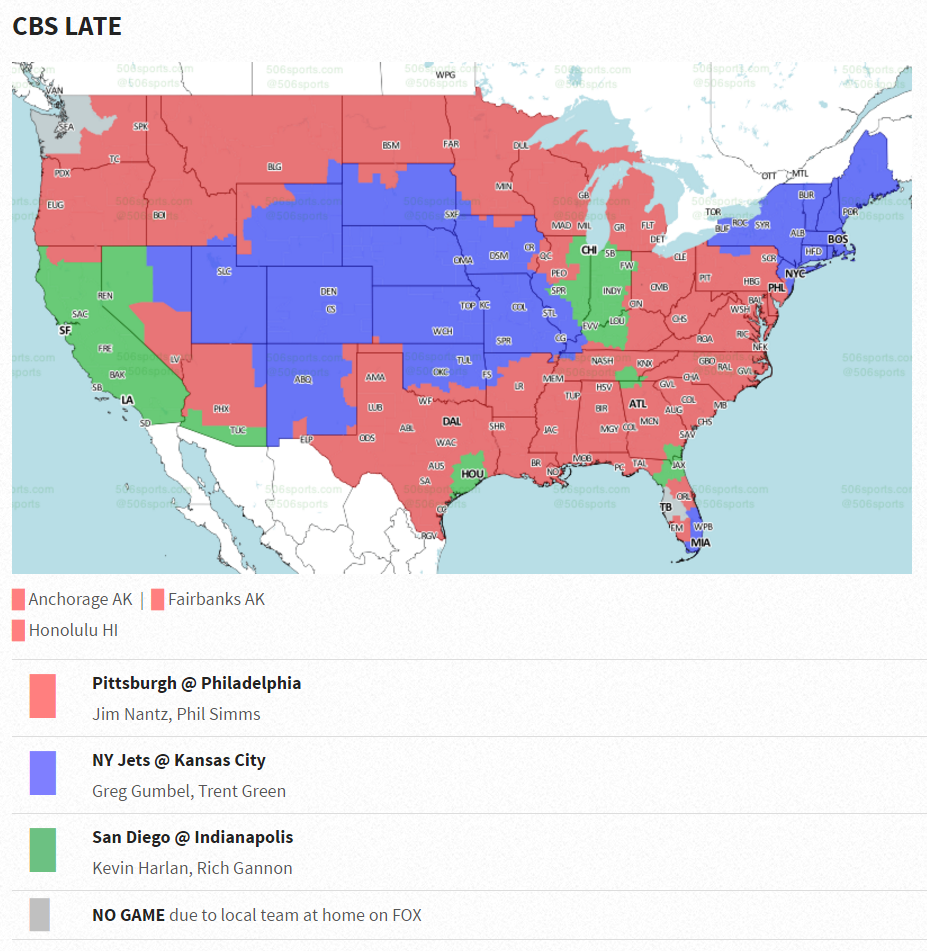 Pittsburgh Steelers vs. Philadelphia Eagles, 4:25 PM
Another battle of the unbeatens for you this week as the Steelers square off against the Eagles. So far the Steelers have looked pretty dominant against their opponents, averaging 31 points per game and only allowing 16 points from their opponents. But the Eagles have a stellar rookie that' shown strength and poise, so an upset could be possible; though very doubtful in my opinion.
NBC
Chicago Bears vs. Dallas Cowboys, 8:30 PM
Coming off of a refreshing victory over Washington, the Cowboys hope to keep the swagger alive as they face off against the Bears in a prime time match-up. With injuries plaguing Chicago, they are looking more vulnerable than ever; but with a rookie at the Dallas helm, the Bears might not be as vulnerable as they look.
Now that we know WHAT to watch, here's HOW to go about it:
NFL on Twitter
For Thursday Night Football, you can stream the big game on Twitter for free. No signups or cable login required. All you have to do is go to tnf.twitter.com and you're good to go. That's it (unless you live in Canada unfortunately).
Over-the-Air Football
To cover the weekly games airing in your area (same as what you get with standard cable), all you're going to need is a simple over-the-air (OTA) antenna. Relatively inexpensive, these little guys can give you all of the broadcast networks (CBS, NBC, and Fox included) in up to 1080 HD picture for free. Sadly, game are limited by market, which means you might not be able to watch the game of your choice (viewing locations provide earlier in the article). To that, you're going to need the next thing on our list.
NFL Game Pass
At $99 a season (with a 7-day free trial), this is a MUST for diehard football fans. NFL Game Pass gives you streaming access to every single NFL game from 2009 to present and it is loaded with a ton of extra goodies; such a coaches films and classic NFL match-ups.
You won't be able to live stream the current games, but they will be available immediately after the broadcast ends. In the mean time, I'd recommend watching a few games on OTA and then flipping over once your game of choice becomes available.
RedZone on Sling TV
Last but definitely not least, we have the NFL Network and RedZone. As of the 2016 Season, Sling TV is offering RedZone and NFL Network as part of their $10/month add-on sports package for their Sling Blue service (the sports add-on gets you a number of other sports networks too). PlayStation Vue is offering an NFL RedZone season pass to its subscribers for an upfront cost of $39.99 to subscribers of either its Core or Elite service.
NFL RedZone offers live access to every scoring play, without commercial interruption, all day every Sunday, in a back to back action format. NFL Network on the other hand, offers access to those odd Thursday Night games that are blocked out in your area for whatever reason; plus around the clock Football News and commentary. For football die-hards like myself, these channels are crucial.
So what are your football picks for this week? Can Washington find its footing? Will Pittsburgh lose theirs? Will you make the leap, and tell us all about how much your are saving, and how you can finally afford to watch a game in person? Let us know in the comments below or sound off on social media!
The post 2016 NFL TV Schedule for Cord Cutters: Week 3 appeared first on Mohu.