2016 NFL TV Schedule for Cord Cutters: Week 4
No Cable Needed for Week 4 of the 2016 NFL Season
What a week of football that was! Washington finally won, Pittsburgh got pummeled, and the Broncos kept on buckin'. If you missed last week's games, do yourself a favor and go catch up; you won't regret it. If you're not able to, then go sign up for a free 7 day trial of NFL Game Pass and catch up that way. But enough about last week, let's take a look at the games to watch for this week; and in a little bit, I'll show you how to watch them all without cable.
Let's get started!
**All Times in Eastern Time Zone**
SUNDAY FOOTBALL – October 2, 2016
Indianapolis Colts vs. Jacksonville Jaguars, CBS, 9:30 AM
There are few things worth getting up early for on a Sunday morning and football is definitely one of them. This early morning match-up will take place in London, England; which happens every year in hopes to build a wider European audience. With both teams having a rocky start to the season, winning this game will be critical if either team hopes to make it to the playoffs this year.
Buffalo Bills vs. New England Patriots, CBS, 1:00 PM
Coming off of a victory against Arizona, Buffalo has to feel a bit more confident going into the match-up against New England; but history may not be on their side. In the last 26 meetings against the Patriots, the Bills have lost 24 times. Even without Tom Brady, this powerful team looks well poised to go 4-0 this week so long as they don't get cocky.
Seattle Seahawks vs. New York Jets, Fox, 1:00 PM
Despite going on the road this week, Seattle is looking strong coming into the match-up after confidently putting away the 49ers last week. The Jets, on the other hands, have a bit of a steeper hill to climb. With a 1-2 start to the season, things could be going better but there's still a chance things change. Russel Wilson is hobbled, and unless he returns to last year's form, they should be able to sack him plenty of times. In short, think top of the league defensive line vs bottom of the league offensive line. Seattle is really playing with fire…
Dallas Cowboys vs. San Francisco 49ers, Fox, 4:25 PM
The Cowboys will be looking to extend  their winning streak to 3 this week as they face off against the 49ers. Despite losing Tony Romo at the beginning of the season, rookie QB Dak Prescott has picked up all of the slack; leading Dallas to an impress victory against Chicago last week. But during that time, they've also given up a lot of yards this week; which makes them prime targets for an upset by San Francisco. On a positive note, it looks like the Cowboys will be without Dez Bryant, which does give the 49ers a glimmer of hope.
SUNDAY NIGHT FOOTBALL
Kansas City Chiefs vs. Pittsburgh Steelers, NBC, 8:30 PM
The Steelers are favored to win this match-up against Kansas City; but then again, they were also the favorite last week; and last week, the Steelers were utterly annihilated by Philadelphia's rookie QB Carson Wentz. With a good defense on their side, the Chiefs have a good chance of picking off Pittsburgh (Marcus Peters); but the Steelers are still a formidable team, and it's unlikely that they'll go quietly into that good night.
MONDAY NIGHT FOOTBALL – October 3rd
New York Giants vs. Minnesota Vikings – ESPN, 5:30 PM
Two of the most talented WR's in the game face off in this Monday Night offensive battle. On one side you have Odell Beckham, who has been drastically under used in the first 3 games of the season, but has proven to be one of the very best WR's the league has ever seen. On the other side of the ball you have 2nd year, Stefon Diggs, who in just a few games is 2nd in the league for receiving yards. One slight edge Minnesota may have is their stellar defense. If they can shut down Manning (like they did with Cam), then it is their game to take.
Now that we know what to watch, here's how you catch watch every NFL game this week without cable!
NFL Over-The-Air
The simplest (and most cost effective) way to watch the NFL without cable is via an OTA (over-the-air) antenna; which allows you to watch broadcast television for free in HD. CBS, NBC, and Fox are all available via OTA antenna, so there's very little you'll have to do this week to watch your favorite games. However, if you find that the game of choice is outside of your NFL market, you're going to run into some trouble. But luckily, there's a solution to that.
But before we get into options outside of OTA, lets take a look at which games will air in your area:
OTA Schedule by Region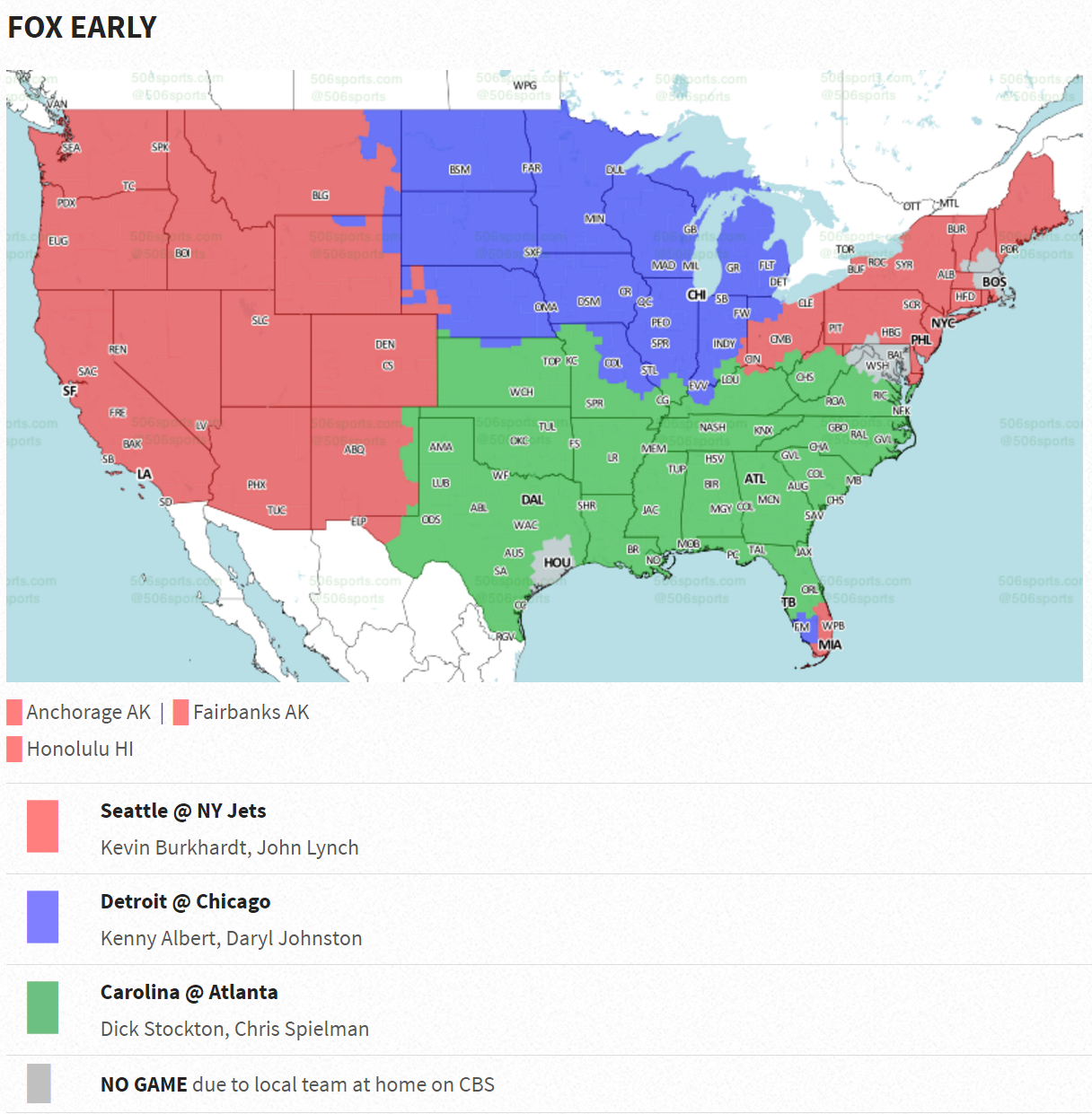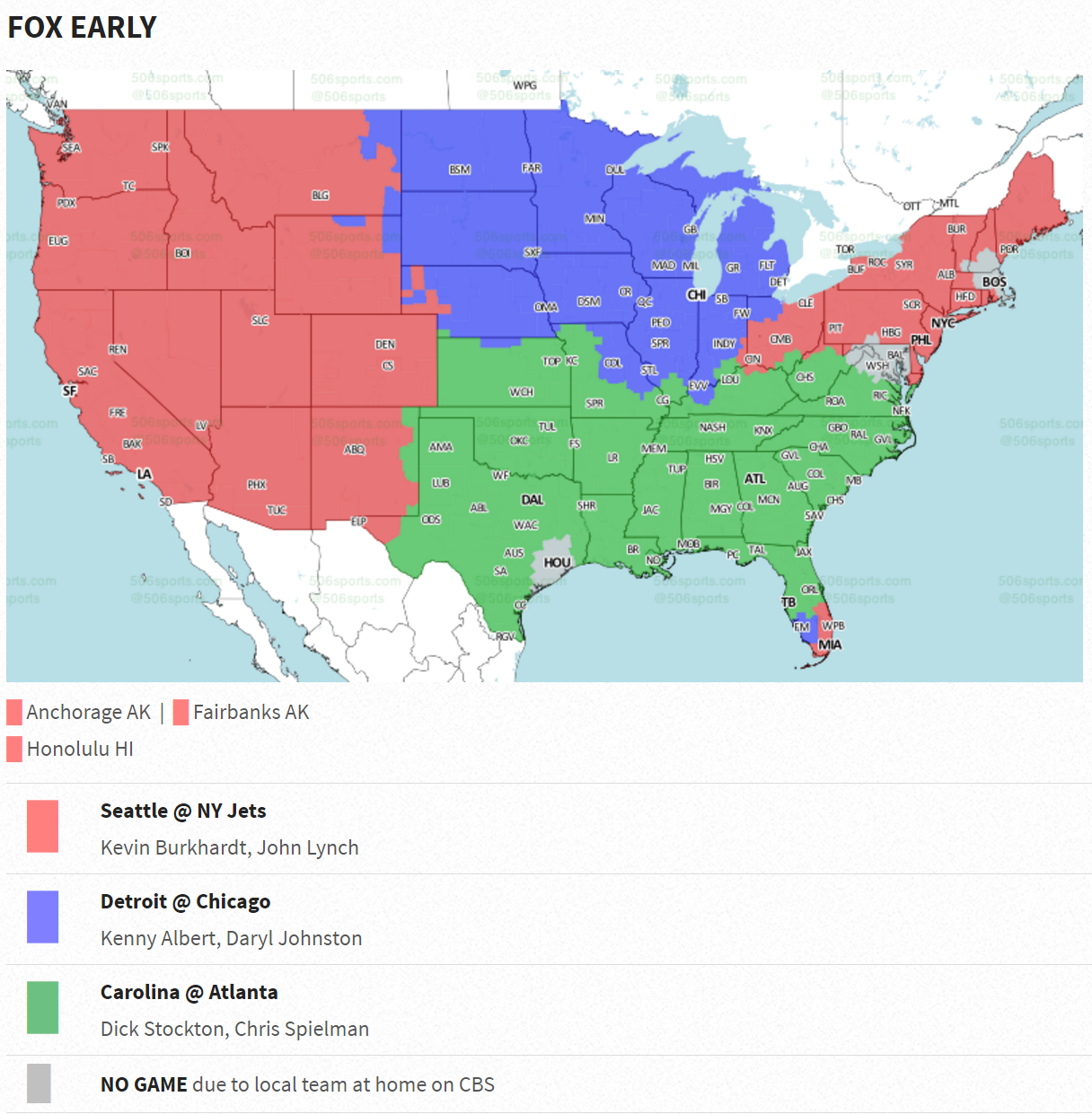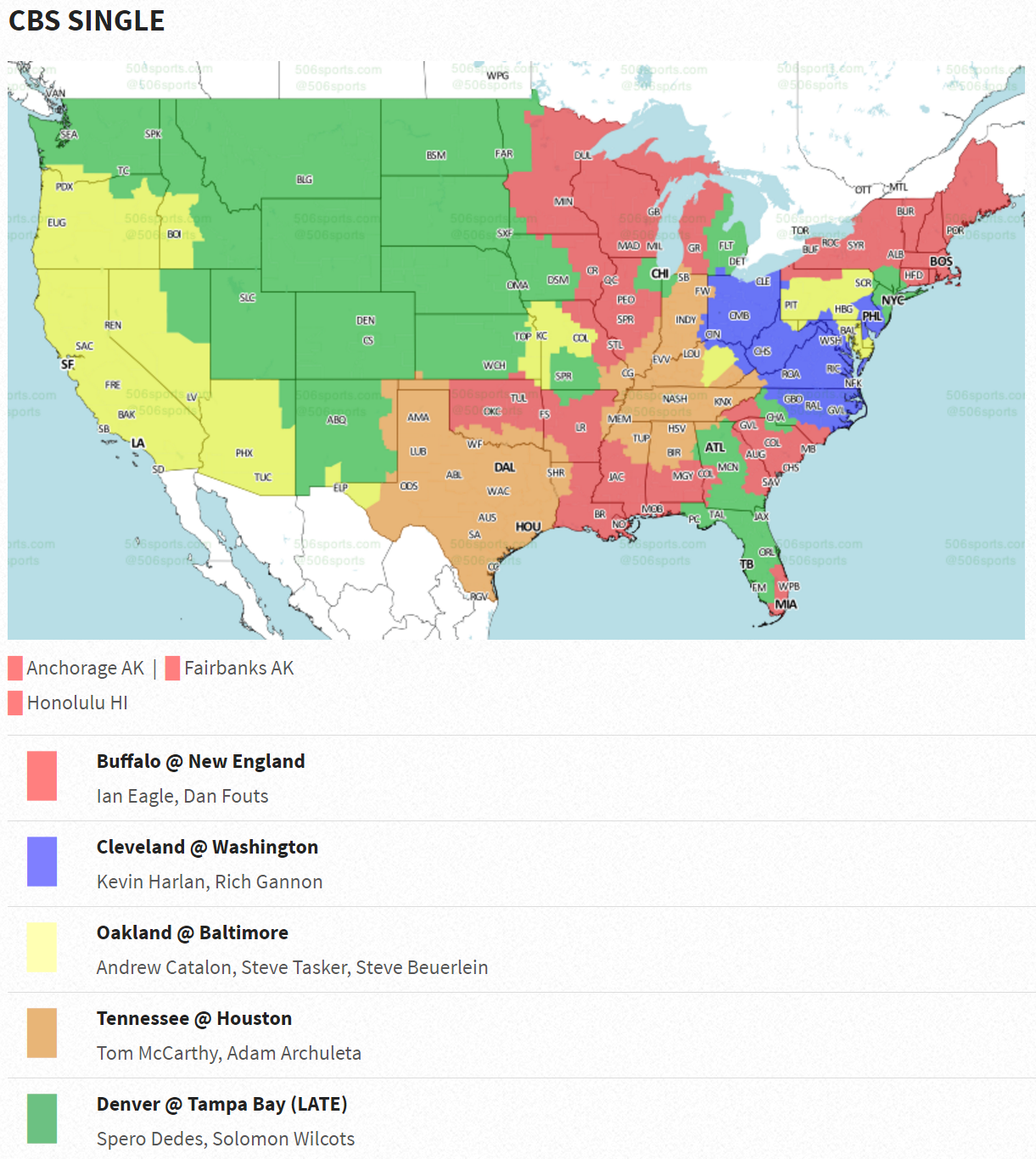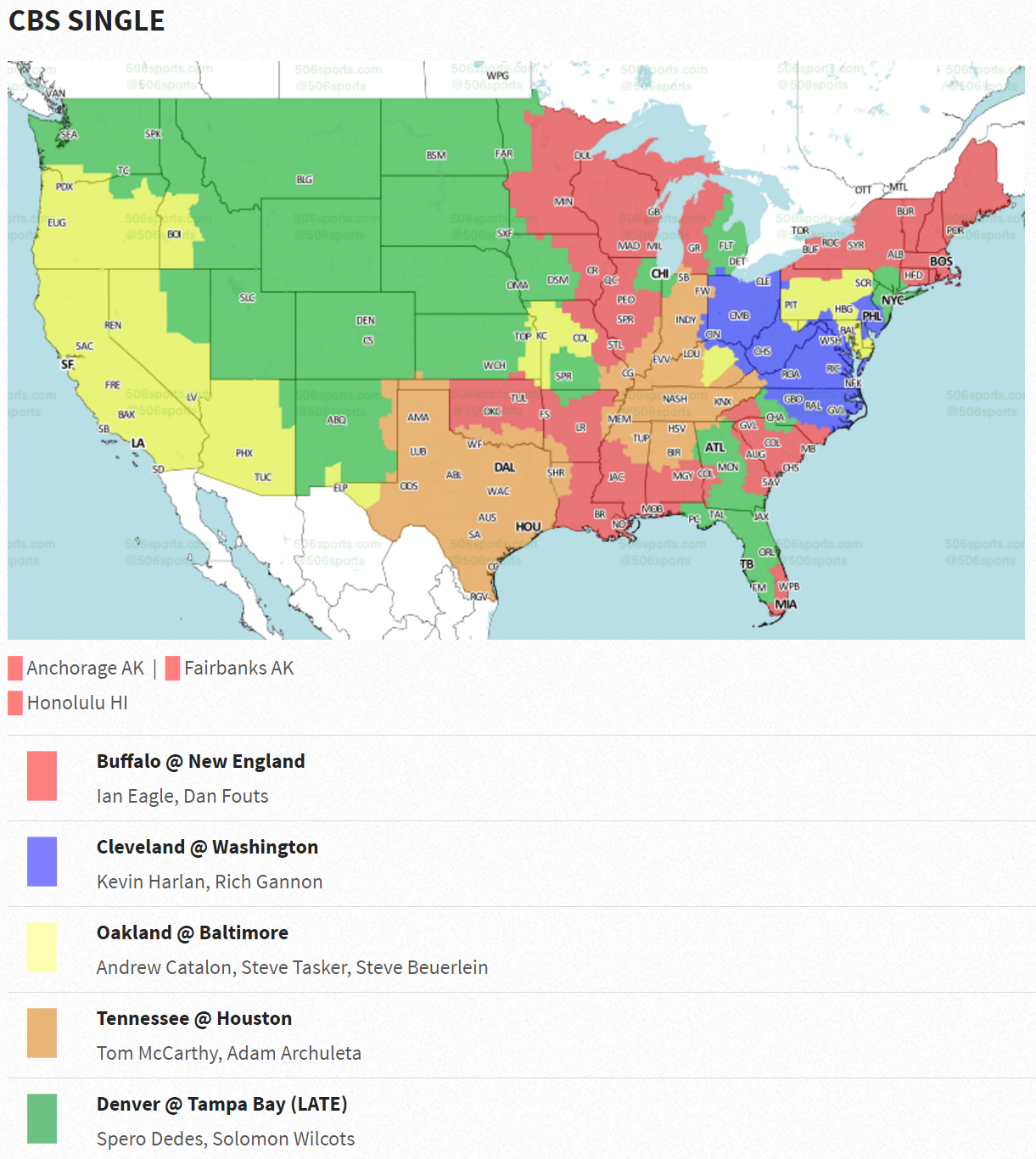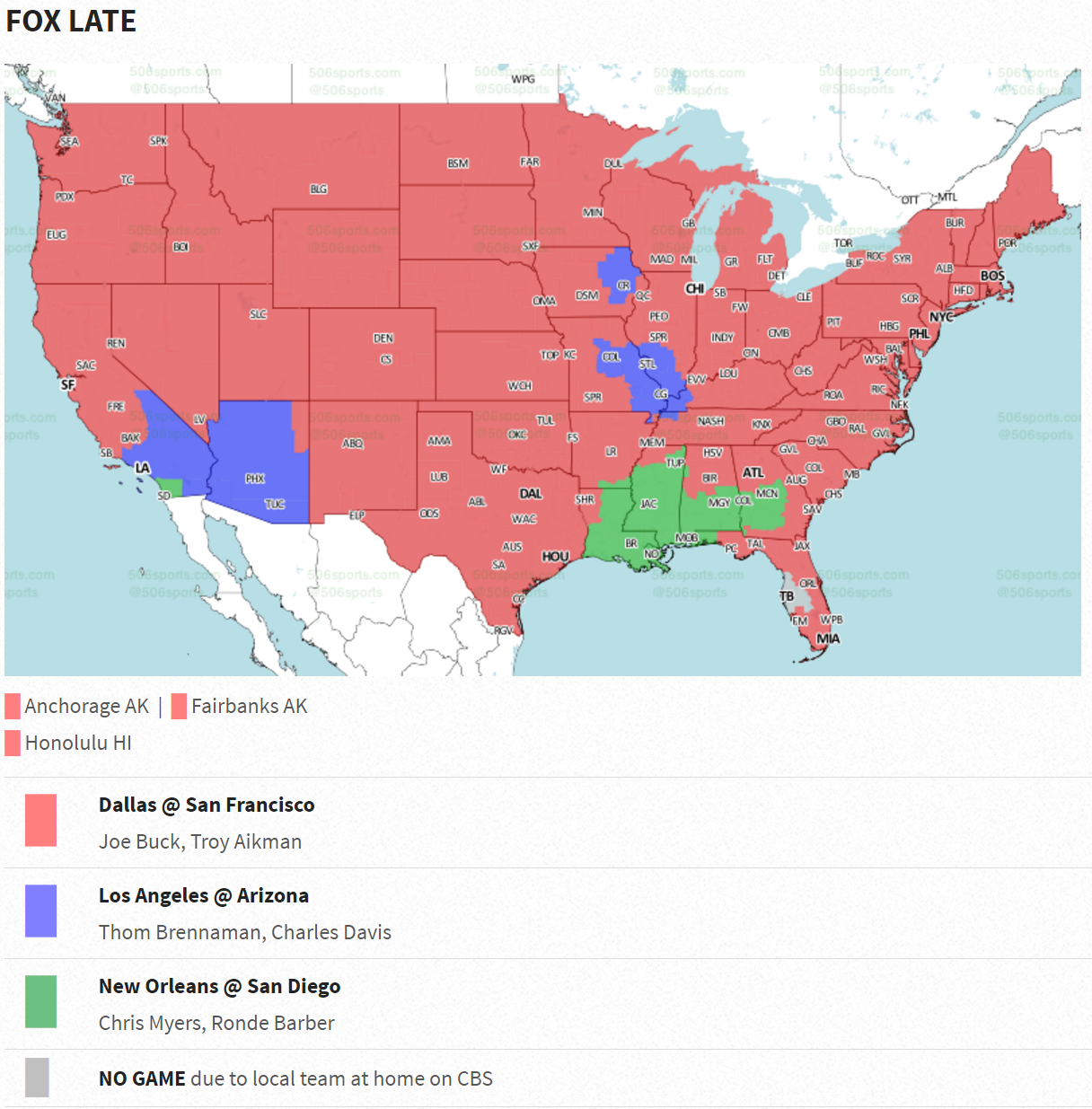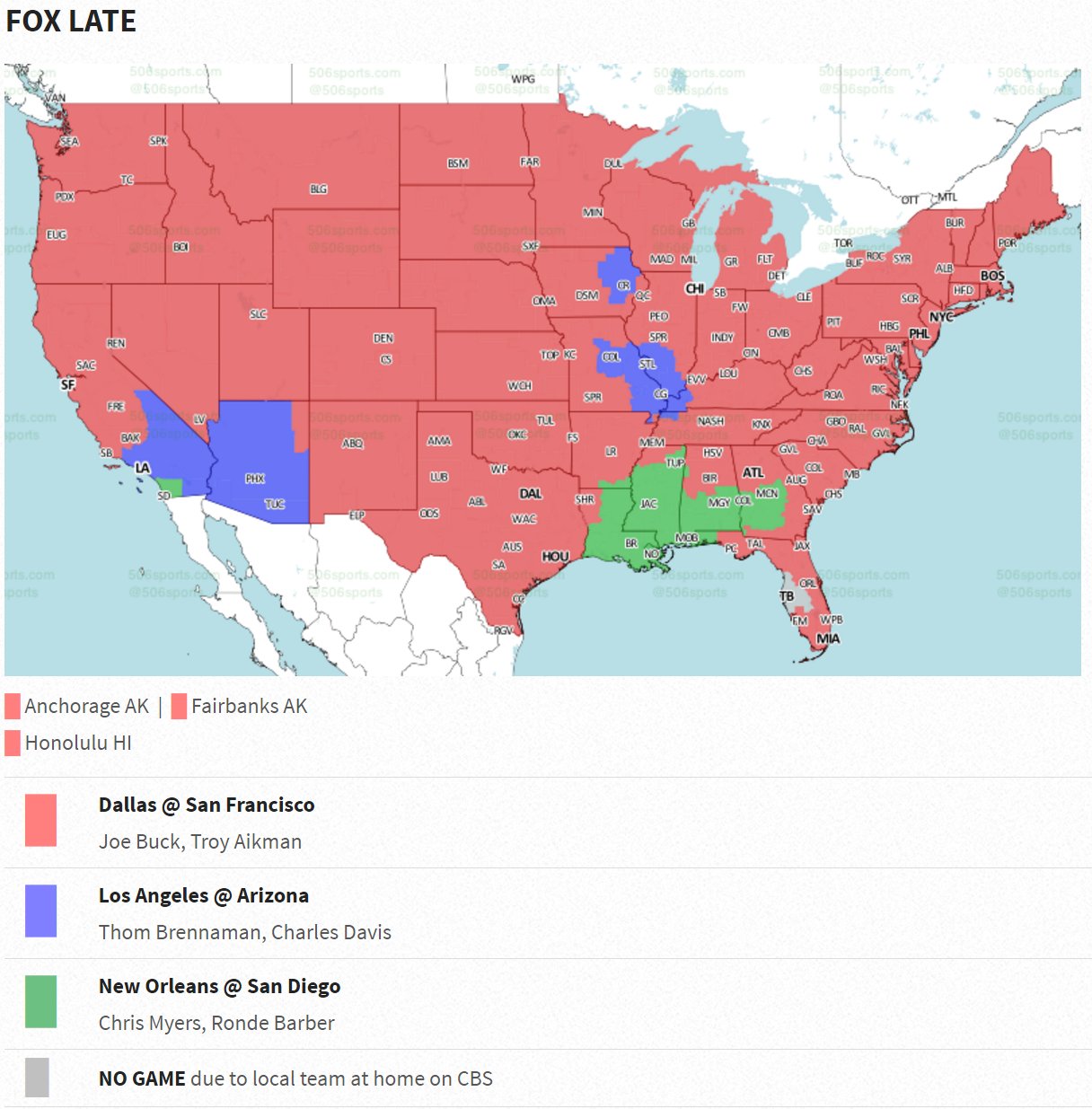 *** Courtesy of 506sports.com
NFL Game Pass
NFL Game Pass is an online streaming service that allows you to watch every single NFL game this season. Not only that, but you'll also be able to watch every NFL game from 2009 onward, as well as a ton of other awesome extras. The only downside is that you can't live-stream; you have to wait until the broadcast ends. A season of NFL Game Pass will run you $99.
ESPN on Sling TV and PlayStation Vue
For the game airing Monday on ESPN, you have two options. Currently both Sling TV and PlayStation Vue offer ESPN as part of their base packages. Each have their positive's and negatives and both offer free trials.
So if you what do you have to lose? You could even sign up for both, and fire the service you like the least.
So what are your picks for NFL Week 4? Will Pittsburgh recover or will Big Ben throw one too many picks? Who's going to come out on top in London? Let us know in the comments below or sound off on social media!
The post 2016 NFL TV Schedule for Cord Cutters: Week 4 appeared first on Mohu.