Cheddar, Live News Streaming Channel, Available Free Over the Air
Recently, the live news streaming channel Cheddar has made the move from being online only to now broadcasting over the air. The self-proclaimed "leading post-cable network" has been referred to as a CNBC for Millennials and has previously only been available via live stream (online and on popular streaming devices). Now they're expanding to the airwaves
What is Cheddar?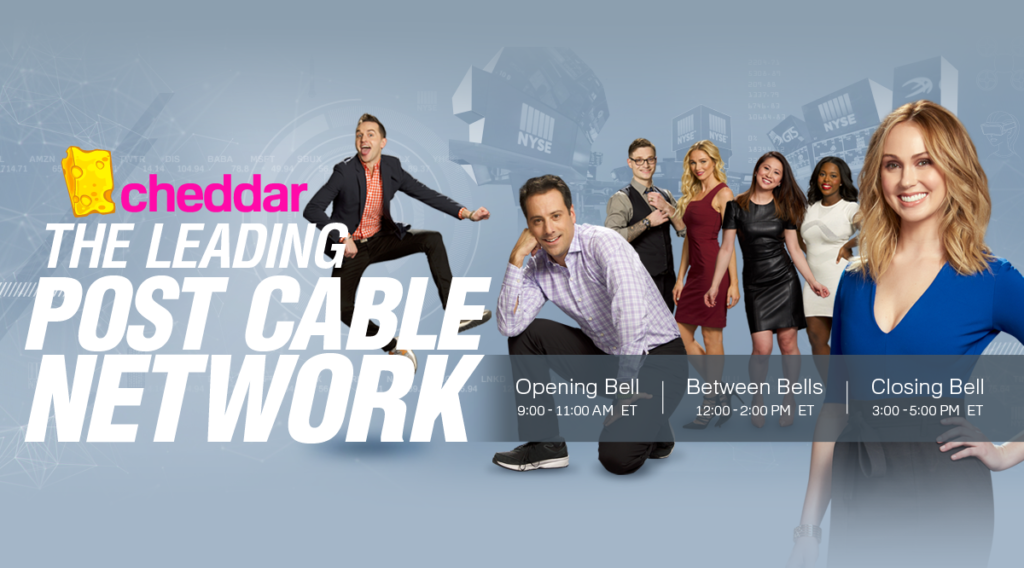 Cheddar, which offers live daily business programming geared toward millennials, has for a long time been streamed online. Now it is taking its streaming channel and making it available over the air for free. It is doing this by partnering with DTV America, which owns five stations that will air Cheddar as a digital sub channel.
It airs a variety of news catering to new technologies, products, services, and the companies behind them, all broadcast from the New York Stock Exchange floor.
"We are very excited about adding Cheddar to our line-up. Their innovative and dynamic business programming geared towards millennials is a perfect fit on our stations for the ever expanding cord-cutters and cord-nevers. DTV America is dedicated to bringing these type of quality networks to the underserved over-the-air viewer," said Irwin Podhajser VP business development, DTV America.
"As the number of cable households declines, broadcast households increased 17% in the last two years alone. This is an unbelievable opportunity- antennas are back – 7 million sold last year alone in the U.S.," said Jon Steinberg, CEO of Cheddar. "Cheddar is all about watching in the moment, so I can't think of a better medium to transmit Cheddar's signal than a live over-the-air channel."
Cheddar Over-the-Air Channel Availability
The following are the stations that will carry the channel, reaching about 4.3 million households:
Cleveland-Arkon: WQDI-D 20.2
Jacksonville: WRCZ-LD 35.5
Kansas City: KCMN-D 42.5
Sacramento-Stockton-Modesto: KFMS-LD 47.3
Orlando-Daytona Bch-Meldrn: WFEF-LD 50.2
The move into over-the-air television is just the latest example of online media securing a place on traditional TV. Several digital media companies, including BuzzFeed, are exploring ways to get their online video programming on broadcast TV. Hopefully the success of Cheddar over the air will encourage more groups such as BuzzFeed to also release a free over-the-air version of their networks.
Benefits of Watching Over-the-Air vs. Streaming
One of the notable perks to watching Cheddar over-the-air is that it's 100% free. That means you aren't using up any of your Internet data (which is a big concern for folks tied to data caps) to watch. Plus, no buffering as you enjoy the news on your TV screen.
The post Cheddar, Live News Streaming Channel, Available Free Over the Air appeared first on Mohu.