Cordcutter Chronicles: News and Trends (Week of Sept. 19th)
The Cordcutter Chronicles: Your weekly dose of what's happening in cord cutting.
The 68th Annual Primetime Emmy Awards showcase both free over air TV and streaming media network winners.
AT&T prepares to launch a new streaming service called DirecTV Now with 100+ channels and a low price point to entice cordcutters.
The CW Network says good-bye to Hulu and launches new apps on Roku and Apple TV which are free and require no sign-up to use.
Despite what cable companies may say, cordcutting continues to have an impact on how they do business.
Keeping an eye on these…
2016 Primetime Emmy Awards
Not to worry if you missed the 68th Annual Primetime Emmy Awards show, as you can still see the show on Hulu. (HBO Now also has it if you are a subscriber.)
Jimmy Kimmel hosted the 2+ hour event, which if you pay for the non-commercial version of Hulu can be cut much shorter and streamed on any device with a Hulu app.
Many of the shows winning top honors at the Primetime Emmy's this year are from networks that broadcast free over air TV or or streaming media networks airing original programming.
According to this TVLine article, network winners included:
…HBO amassed 22 total wins, followed by FX's 18; Netflix and PBS were a distant third and forth with 9 and 8, respectively. Broadcasters ABC, CBS, Fox, NBC and The CW (all free to cordcutters over air…) combined for 21 total Emmys…
In hopes of keeping up its winning ways, Netflix has announced it is aiming to have 50% of its content be original programming in the next few years. (If you are a cordcutter I suggest you buy some Netflix stock and get ready to sit back and enjoy!)
For a list of all the 2016 Primetime Emmy nominees and winners, check out IndieWire's complete list.
AT&T Prepares To Launch DirecTV Now
While there is some speculation as to the price and the official launch date, there is no doubt that AT&T is preparing to launch DirecTV Now, a streaming TV service to go head to head with Sling TV and Sony's PlayStation Vue service.
AT&T mentioned it by name back in March of this year, but this week confirmed its plans to make the service available to consumers in early 2017. (Although some say it may be out for the 2016 holiday season.)
With a competitive price and over 100 channels, DirecTV Now's target audience is cordcutters and cordnevers who are likely to be already using competing services. It seems this will most likely go head-to-head against the top-tier of PlayStation Vue, "Elite," given the high number of channels. Speaking of hundreds of channels, most Americans don't see the value in having so many channels to choose from, and the average person watches just 17 channels.
DirecTV Now service will be available online and offer apps that can stream its content via streaming boxes like Roku, in addition to mobile apps for smartphones and tablets.
Perhaps one of the biggest perks to this service will be if you are an AT&T mobile user.
…Choose to use that (DirecTV Now) in a mobile environment on AT&T [then] your data cost will be incorporated into your content cost.
CW Leaves Hulu
Up until last week the simplest and best option for a cordcutter wishing to view previously aired CW network shows was to watch them on Hulu.  Unfortunately, that's no longer possible.
The CW network and Hulu have parted ways.  In the split CW maintains its custody of the content and is now offering it for free via CW Seed.
Right now if you download the CW Seed app for Apple TV, Roku, Amazon Fire tablet, iOS (iPhone, iPad, iPod touch) and Android, you can view entire episodes of your favorite The CW network shows.  Or simply open up the CW Seed online to view content.
To do so, connect your laptop to a HDTV via HDMI, or use Chromecast or AirPlay to view it on a larger screen without the need for an app.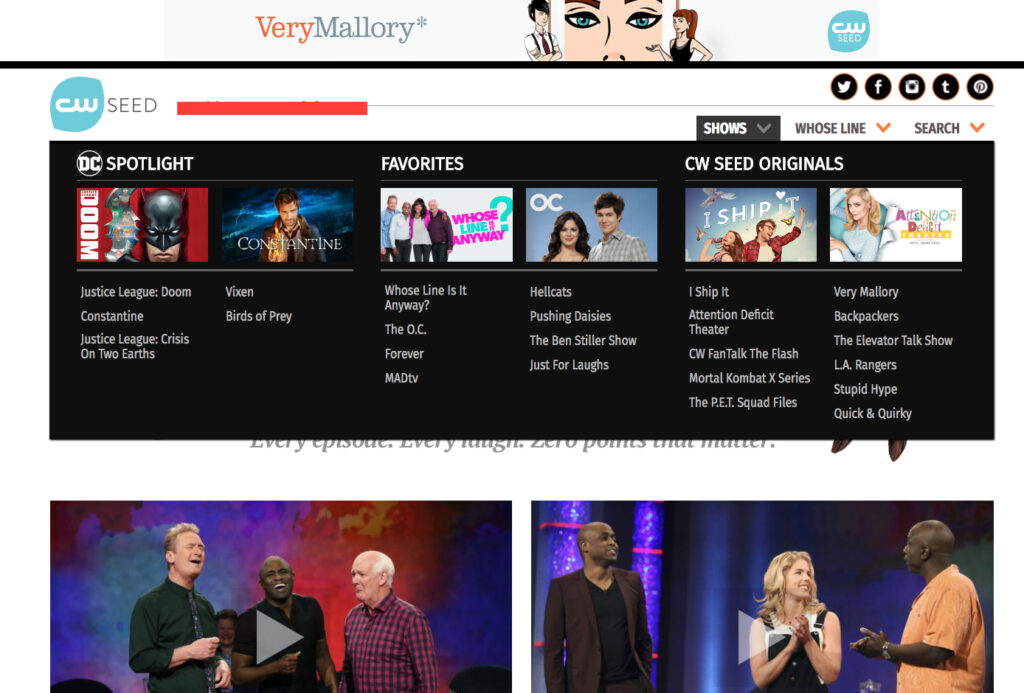 While some CW shows don't seem to have many episodes available, there is still a significant amount of free content available through CW Seed.
The best part? It's free!
Cordcutters Incrementally Impacting Business
A recent survey done by Charter cable company indicates that cordcutters present no threat to the business of cable TV. This is where I have to consider the source and beg to differ.
Aaron Pressman, Senior Writer for Fortune, this week wrote the article  The Average Cable TV Bill Has Hit a New All-Time Record.  
According to the article:
…The cord-cutting phenomenon has been accelerating of late. More than 800,000 people dropped pay TV packages in the second quarter.
Pressman's article also sites a survey by the Leichtman Research Group released this past week that states while 82% of consumers still subscribe to some form of pay TV; similar to levels seen 11 years ago:
…25% of those who moved in the past year do not currently subscribe to a pay-TV service — a higher level than in previous years.
This sort of data is encouraging to me, and undoubtedly discouraging to cable TV companies doing their own surveys who are steadily being forced by cordcutting tends to change the way they do business.
The post Cordcutter Chronicles: News and Trends (Week of Sept. 19th) appeared first on Mohu.