Cordcutter Chronicles: News and Trends (Week of Sept. 5th)
The Cordcutter Chronicles: Your weekly dose of what's happening in cord cutting.
Technology for cordcutters continues to improve with a significant Amazon update for the Fire TV and Fire TV Stick.
PS4 virtual reality becomes real October 13th, and November 10th the PS4 Pro brings 4K gaming to the masses.
The FCC sides with consumers and pay-TV company Comcast is not happy about it.
Amazon Fire TV & Fire TV Stick Get Update
According to Amazon's September 6, 2016 Press Release," new features coming to all Amazon Fire TV and Fire TV Stick customers include:
Universal Search expanded to over 75 apps and channels. Use your voice to search across 75+ apps and channels, including Netflix. With support for universal search across more apps and content providers than any other streaming media player, Fire TV makes it easy to find and watch your favorite TV shows and movies. In addition, if a TV show or movie is available on multiple apps, Fire TV will now show you viewing options – watch, stream, rent, or purchase – so you can choose an app or channel based on convenience and value.
Customized content that's easy to find. With Fire TV, you don't have to launch multiple apps to see what's new or get recommendations. Now, subscribers to popular providers like Netflix or HBO can quickly see personalized recommendations in custom rows available directly from the Fire TV home page. Fire TV gives customers a fast, easy way to access content they want with custom rows for popular apps and channels, including HBO, Netflix, and more in the coming months.
Alexa voice control for Amazon Video. Using just your voice, Alexa support for AmazonVideo now lets you advance or go back in a video any amount of time you specify. Say "skip ahead 2 minutes" to jump past the opening credits. Miss something because you were interrupted? Just try "rewind 30 seconds." Ready for the next episode? Just say "next."
Sports Updates. Using Alexa, just say "give me my sports update" to see the latest scores and game info from your favorite sports teams right from your Fire TV. To select your favorite sports teams, simply go to Settings within the Alexa app, using a browser or your Fire tablet, iOS or Android device.
I completed the update on my Amazon Fire TV Stick.  It took about 5 minutes to complete and then I tested out some of the update features.
Via voice search I asked: "What NFL games are going on this Sunday?"  
Alexa answered and showed me a partial schedule on my TV screen, with the option to learn more.  I also used voice search to open Netflix and HBO GO without issue.  I tried to advance Amazon Video content via voice, but found that navigation to be a bit tricky. User error possibly!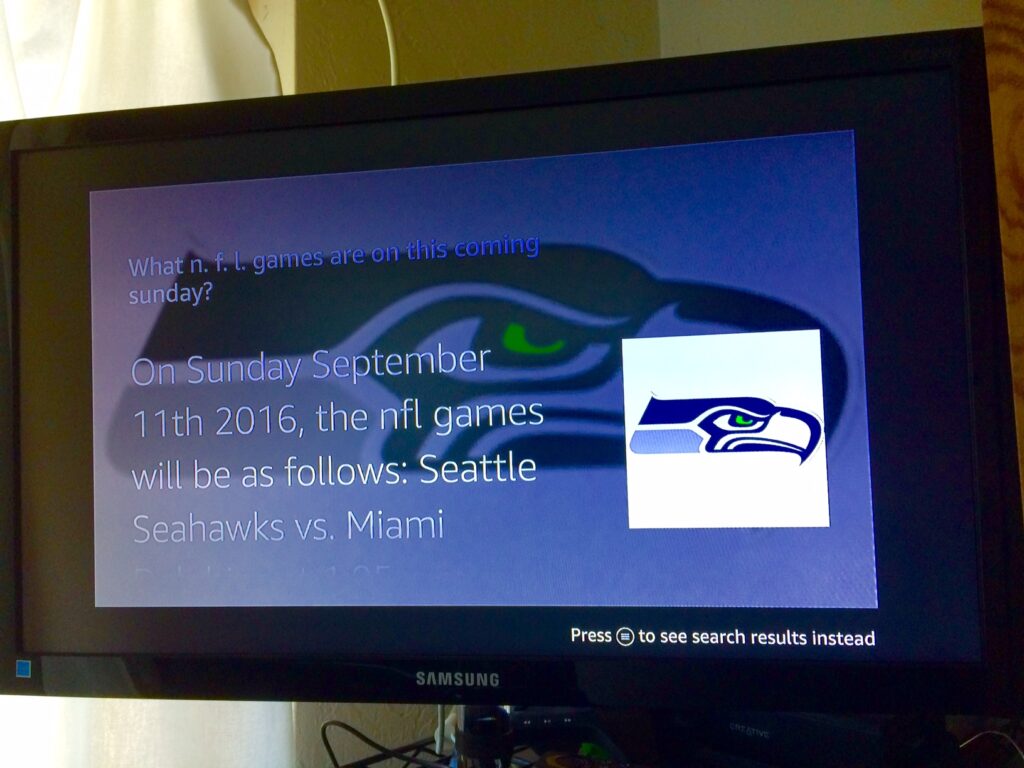 PS4 Pro & VR Launch Dates
It's been three years since PlayStation launched the PS4 gaming console, but with gaming retailers looking to do well during the holiday season the timing for the launch of the PS4 Pro gaming console could not be better!
November 10th is the official launch date for the PS4 Pro with VR (Virtual Reality) stuff launching October 13th for the PS4.
The new PS4 Pro with its backward compatibility to all PS4 games and a suggested retail price of $399.99 (US) looks like it will appeal to gamers looking to upgrade their gaming experience with faster hardware capable of being effectively paired with higher resolution 4K displays.  (Per the PlayStation blog: "On 4K TVs, games are capable of running at up to 4K – 3840 x 2160 pixels, also known as "2160p" – resolution. On HDTVs, games will run at 1080p.")
One thing that may turn off some potential buyers is that the new PS4 Pro lacks 4K UHD Blu-ray, because the company feels streaming and not physical media is the future of entertainment. Look for PlayStation to continue to work with Netflix and other streaming partners for 4K content.
PS4 Pro possesses impressive hardware, but for most cord cutters who already own a PS4 console and enjoy PlayStation Vue, this system will only be something to drool over and not a must buy.
If you want to compare the PS4 with the PS4 Pro, check out this PC Mag article for all the specs, pros and cons.
 FCC Set-Top Box Proposal Makes Comcast Cringe
After seven months of the Federal Communications Commission (FCC) holding proceedings in which individuals and consumer groups, pay-TV providers, software developers, and TV-related hardware manufacturer's testified, the FCC released its final proposal for industry-wide change. A fact sheet outlining the FCC's proposal to provide free, mandatory apps for consumers currently paying monthly fees for access to pay-TV programming can be read here.
The FCC set-top box proposal is particularly upsetting to companies like Comcast who benefit from monthly set-top box fees (to the tune of $20 billion per year), which would be eliminated if this proposed reform goes through.
By contrast, it could benefit consumers of pay-TV service who would have the option to buy 3rd party set-top boxes and get free apps to access content.
"This is a golden era for watching television and video. By empowering consumers to access their content on their terms, it's about to get cheaper — and even better." -Tom Wheeler, Chairman, FCC
The post Cordcutter Chronicles: News and Trends (Week of Sept. 5th) appeared first on Mohu.