Free Over-the-Air TV Channel Guide Options
Canceling cable TV can be liberating—from the content online to your antenna bringing in a new world of free content over the air. Although many cord cutters have more things to watch, they may be missing one thing with their over-the-air TV: a channel guide.
Before I canceled cable TV I was addicted to my DVR, especially the ability to quickly flip between channels and not only see what was on now but what will be on next. When I dropped cable TV I lost that ability and sorely missed it.
Although you can buy a DVR for over-the-air TV and get exactly that same experience, it can cost hundreds of dollars plus a monthly fee, and it's just not worth it, especially if all you want is a channel guide.
So here are a few over-the-air channel guide options to replace the familiar cable channel guide.
Free Channel Guides for Cord Cutters
Web Browser
If you just want to check out what is on tonight your web browser may be your best option. An excellent online TV guide that you can pull up with your browser is AOL's TV Listings. They have a first-rate over-the-air channel guide, and if you create a free account you can edit the channel list, save shows to favorites, and create alerts to let you know when your show is airing.
Android & iOS
I bet most people are like my family and have a tablet or phone with you as you watch TV every night. There are a ton of great apps out there that let you set reminders that will pop up on your phone or tablet to help you make sure you are not missing your favorite show or movie.
There are two apps I would recommend: TV Guide and Fan TV. They are both excellent apps for cord cutters to find what is on and when it will air.
TV Guide App
For those who just want to know what is on over the air, the TV Guide app is perfect. It is a stress-free app that is easy to set up and use. If you want a straightforward channel guide, this is the app for you.
You can find the TV Guide app for iOS and Android devices here: http://www.tvguide.com/mobile/ 
Fan TV
If you want to get an idea of everything available to cord cutters, check out the Fan TV app—not only will it show you what is on over-the-air TV, but it will also let you know if the show is available for streaming from the services you tell it you subscribe to.
Over time Fan TV will learn what you like and start suggesting shows based on your previous viewing history. Similar to Netflix suggestions, the more you "favorite" specific shows the more accurate and helpful the suggestions become. Fan TV is a powerful app for cord cutters, and it has a Fire TV and Android TV version to give you the full channel guide experience on your TV.
Tech Savvy Options
Build Your Own Over-the-Air DVR
If you have an older Windows PC lying around and a digital tuner, you can add in your over-the-air antenna and build your very own DVR. What's great about this option is that you can utilize equipment you may already have to record your favorite shows without forking up several hundred dollars for a DVR device. Plus, this option gives you a free channel guide to view what's on, as well as select which shows you want to record.
Most third-party DVR devices for over-the-air TV require an ongoing subscription fee for access to the channel guide. A big reason folks choose to cut the cord is to free themselves from ongoing monthly fees, so this is a win-win option.
Set Up Kodi TV
Another great option for the more technologically advanced cord cutter is to set up a Kodi Media Center. Kodi, formerly XBMC, is a fantastic open source software that has many great uses, but in particular for the typical cord cutter, it is a great way to manage all of your media (music, movies, photos) as well as your over-the-air TV viewing guide.
We've previously put together a step-by-step guide for how to set up Kodi TV media center. Use the TV Guide add-on to incorporate your own free channel guide.
For Gamers: Xbox One
If you are a gamer or have one in your household, if Xbox One is your console of choice, you can utilize their Live TV bundle they launched last year to transform the console into a full-fledged cord cutting device. If you're curious, here's a guide to how you can cut the cord with Mohu and Xbox One.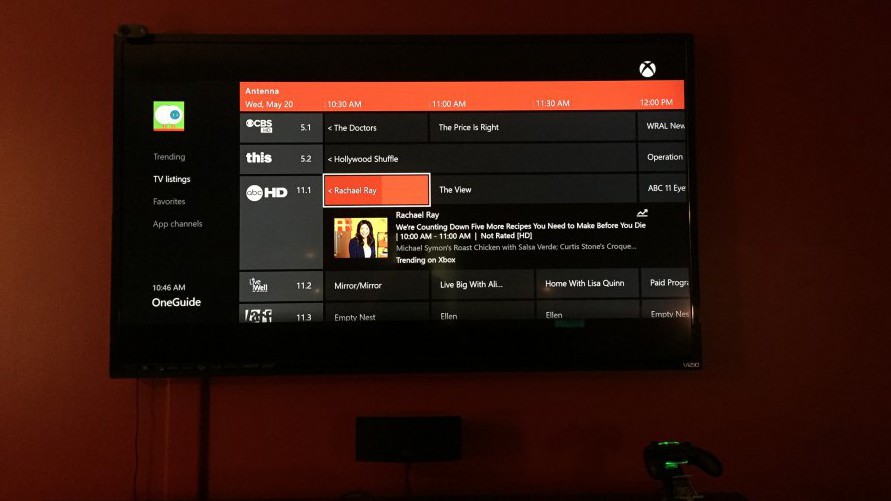 Aside from being able to watch live broadcast TV while simultaneously playing games, one of the perks of cutting the cord with Xbox One is that you can take advantage of the free OneGuide, which is the Xbox One channel guide. Within this guide you can also add in your favorite streaming apps to easily scroll through and select either a live TV channel or Netflix.
Over-the-air TV offers so much great content, but sometimes it is hard to find. New channels are added and others are dropped. Lineups change as new shows come and go. Having a great channel guide is the perfect way to make sure you are getting the most out of your antenna.
The post Free Over-the-Air TV Channel Guide Options appeared first on Mohu.