Mohu Spotlight: Curve 30 Indoor HDTV Antenna Blends Form, Function
Gone are the days of ugly rabbit ear antennas and spotty over-the-air TV reception. Today it's all about enjoying free over air TV in HD while also finding a happy balance between high performance and contemporary style. The Mohu Curve 30 fits the bill perfectly for many cord cutters.
The Made in USA Curve 30 Indoor HDTV antenna combines military-grade technology with a small, attractive footprint to effortlessly draw in both UHF and VHF over air signals. Its eye-catching design is unique in the OTA antenna marketplace. Its an HDTV antenna that can double as a contemporary piece of artwork. You can easily hide the Curve 30 behind your TV without a negative effect on your over air TV reception or put it on display for all to enjoy.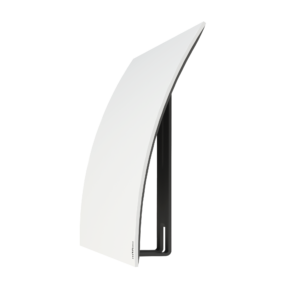 Product Overview
The Curve 30 is ideal for urban and suburban users who live within a 30 mile radius of broadcast towers. The antenna will pick up UHF signals up to 30 miles away, and VHF signals up to 10 miles. Because it's multidirectional; able to receive television signals from multiple directions, it doesn't need to be moved around once the optimum placement at your location has been achieved.
The Mohu Curve 30 and Curve 50 antennas can lie flat on a horizontal or vertical surface, or curved as shown by using the included stand.  A 10′ detachable coaxial cable is included with this non-amplified antenna.
If you find you are receiving RF interference at your location (from wireless telephones for instance), you can add a Jolt TV amplifier to any non-amplified Mohu antenna (Leaf Metro, Leaf 30, Curve 30) setup.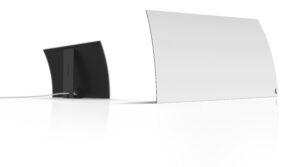 At $49.99 the Curve 30 is a great HDTV indoor antenna option for any cord cutter looking for a 'set it and forget it' option. (If you don't mind a refurbished open box product, you can save a bit more.)  Once you hook up the Curve 30 and do a channel scan, you're set to enjoy free TV from the major networks including ABC, CBS, NBC, FOX, PBS and others in full 1080 HD!
Remember that all of the Mohu antennas combine beautifully with streaming media devices and services to provide consumers with a plethora of entertainment options as compared to traditional TV service, in addition to unparalleled savings.
User Considerations
Weather
All over air antennas are subject to fluctuations in weather.  Rain, wind, and snow can affect your reception no matter what antenna you choose.
While this can be a frustrating thing to deal with, especially in severe weather, it's a rare occurrence and something that can often be overcome by simply moving the antenna and re-scanning for channels.
Terrain
In an ideal over air antenna scenario, you would live in a flat area with broadcast towers in sight of your location. Since most of us don't live in that ideal situation, terrain can be a factor with respect to channel reception.
It's possible to overcome some issues with terrain by using a Mohu Jolt Digital Antenna Amplifier in conjunction with a non-amplified Mohu antenna. Adding the Jolt amplifier to your coaxial cable can fine tune the Curve 30's signal reception and clear up reception issues.
Placement
A key factor in over air channel reception is antenna placement at your location.
Placing your Curve 30 as high as possible is best. In a window, on a shelf, or behind the TV will all work, but you may have to try multiple placements with subsequent channel scans to find just the right placement to obtain all the broadcast channels in your area.
Elegant.
Entertaining.
Effortless.
These words describe the Mohu Curve 30 perfectly, and simply explain why I think this indoor HDTV antenna might be the right one for you.
Andrea Polk hails from Oregon and is a wife, mother, writer, Amazon Top 50 Reviewer, and more. She's also the author of the Simple Guide to Over-the-Air Free TV and the Simple Guide to Sling TV as well as the avid deal-seeker behind SavvySleuth.com, where she scours the web for the best online deals.
The post Mohu Spotlight: Curve 30 Indoor HDTV Antenna Blends Form, Function appeared first on Mohu.