Roku TV Plus Antenna Is the Easiest Cord Cutting Package
An antenna is one of the best tools out there for anyone who is looking to cut their cable package. It is useful for watching all types of content like news, sporting events, and some of the best TV shows out there. Plus, there is no monthly cost, so the only expense is your initial investment in your antenna.
The best way to use an antenna is to pair it with another device or service. On its own, it's great, but combined with the right streaming device, it can really be a part of the ideal cord cutting package.
One of the best combinations you can set up would be pairing an antenna with a Roku device. Whether you're looking to watch live sports like the NBA or stream movies for the Christmas season, this setup is as easy as it gets for cord cutters, which is convenient considering how confusing some of the other options on the market are. Here are some details and things you need to know.
The Antenna is Definitely Critical
If you're trying to watch any type of local programming or want to keep up with popular TV shows then you definitely need the right antenna in your setup. The antenna picks up the area broadcasts from network channels like ABC, CBS, NBC, and FOX. For example, you can watch the NFL or NBA plus all the great TV shows airing on these networks with just the antenna. One of the best parts is you get all of this live TV in high-definition picture, which a lot of people agree to be much clearer than any HD they've gotten through cable.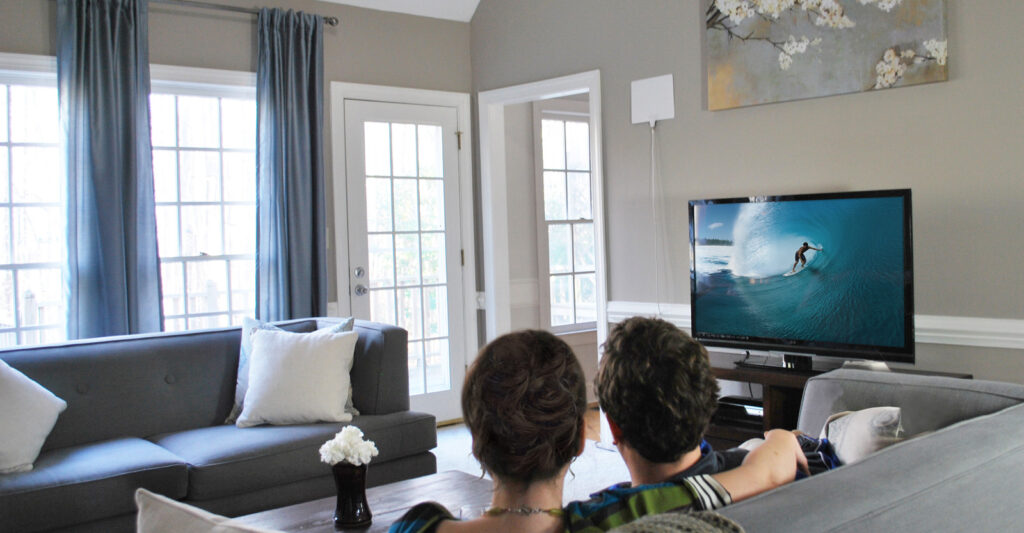 Antennas Gets Lots of Channels, But Not Cable Channels or Netflix
While the antenna is a tool I would recommend every cable cutter to have, it does not provide everything most people need to cut the cord. The antenna doesn't let you stream things like Netflix, Hulu, Sling TV, or other streaming services. That's where you need to bring something else into your setup in order to successfully cut cable.
Buying a Roku device would certainly help you out and fill a lot of the gaps left by the antenna. You can hook the device up to your TV and have access to all the "channels" Roku offers. These range from WatchESPN, to WWE Network, to PlayStation Vue, to HBO NOW (even the new service, DirecTV Now will be added to Roku next year). All of these can be watched right on your TV, with the proper subscription. No matter what type of services or channels you want to sign up for after cutting cable, you can likely watch all of them right on your TV with Roku.
The only downside to the arrangement is it's not totally seamless like a normal cable package would be. Going from the antenna to the Roku is like switching from cable to your DVD player. You need to grab the remote, change the input, and then switch over to using the Roku remote. Not that big of a deal, but not the ideal setup.
A Roku TV and Antenna is the Ideal Setup
Many TVs out there now have partnered with Roku to have its software built directly in. There are a solid variety on the market, but the one I have experience with is the TCL 43" 4K Roku TV (full disclaimer: Roku sent me the TV to try it out). Normally, I wouldn't recommend Smart TVs, because they're often slower and restrictive on which apps they let you use. But, if the Roku software is built in you get all the flexibility of the Roku along with the speed.
The experience I've had with the TCL has been phenomenal. You can control everything with the Roku remote, including all of your different channels. Plus, the antenna gets added in as a channel on your home screen, right next to all your other apps. This saves a little of the hassle of switching back and forth and gives you what I think is the ultimate cable cutting setup.
There are a lot of different ways to cut the cord, but the most important thing is to do it in a way that you'll be happy with. You don't want to go into it blind, regret it, and then go crawling back to your cable provider. Instead, you can get the right tools like the antenna and Roku and truly enjoy your time cutting cable!
The post Roku TV Plus Antenna Is the Easiest Cord Cutting Package appeared first on Mohu.