Savvy Shopper Gift Guide
Can't think of what to get that special someone on your list? Here is a gift guide with a few inexpensive gift ideas, and tips on how to save while shopping online.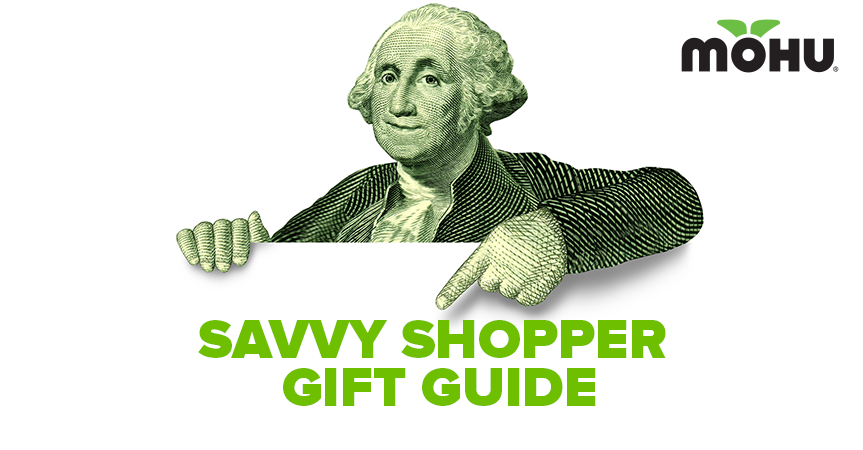 Gifts for the Tech-Minded
I admit it, I fall into this category. I'm on my computer, smartphone, or tablet  90% of my waking hours. If you know someone like me, these budget gift ideas are sure to please.
Headphones: In-Ear, Over-Ear and Bluetooth, in all kinds of colors and styles, with prices starting around $5. Add an iTunes gift card for a gift that's music to their ears!
Portable Battery Packs: Used to charge smartphones, tablets and digital cameras, these handy gadgets can be snagged for as low as $6.
Amazon Fire TV Stick: Only $39! Highly portable and easy to use, perfect for college students and cord cutters.
Leaf Metro Indoor HDTV Antenna: Small, powerful, money-saving tool for cord cutters, this low profile digital over-the-air TV antenna is less than $25.
Gifts for Cooks Who Like to Entertain
Delightful deals that are sure to bring a smile to the face of your favorite host or hostess.
Cookbooks and Recipe Card Boxes: Found both online and in local discount stores, you can make a theme gift such as a BBQ cookbook, paired with an inexpensive jar of spice rub. A simple, yet thoughtful gift that can be put together for $5-10.
Glassware: Full set of 12 champagne glasses for less than $25 shipped is an awesome deal that still leaves you enough cash to buy a bottle or two of bubbly to ring in the New Year!
Assorted Flavors of Keurig Cup Beverages: Make sure you know which Keurig brewer they have before you buy. Alternatively you can get a Keurig Reusable Filter and give it with a bag of your favorite coffee beans. Either way, it's about $12.
Gourmet Gift Basket: Choose an interesting container and fill it with items for a themed dinner. For example, a colander filled with dry pasta, pasta sauce and a bottle of chianti. Costs will vary, but it is possible to put one together for as little as $10.
Gift Cards Plus One
Sometimes gift cards are the only way to go.  To perk up your present of a gift card, consider doing one of these things.
Put it in a reusable container. Something like a Starbucks gift card in acrylic tumbler with a lid and straw. You can get them at your local Dollar Store and they come in lots of different designs.
Add candy. It's simple, easy and for about $1 you can get a movie-sized candy bar or a bag of hard candy to add to your gift. Perfect with a Netflix gift card!
Tuck it in a book. Put the gift card in a book you already own and want to pass on, or pick up a new one for a few bucks.
If you want to save on the purchase of your gift cards, look for holiday discounted offers both online and in your local paper. Gift card deals tend to take a percentage off a purchase, but sometimes a buy one, get one free offer comes up too.
I have found that I can add coupons via my local grocery store's website, and sometimes gift card deals are offered, and taken off my bill at checkout if I've added them prior to shopping in my local store.
If you don't mind partially used gift cards, which theoretically could be used to buy new gift cards, check out this discount gift card site.
Savvy Saving Tips for Online Shoppers
1. If you shop on Amazon, Newegg, or Best Buy, use the Chrome browser, Firefox or Safari and get the Camelizer extension to check pricing trends on items you want to buy.
2. Sign up for Ebates and go through it to get cash back on your online purchases.
3. Frequent deal site forums like Fatwallet's Hot Deals, for the heads up from other online shoppers.
4. Sign up to receive emails from  daily deal sites like Zullily, Groupon, and Living Social. (Get a web-based email on Yahoo or similar just to be used for this purpose, to avoid mucking up your regular email inbox with too much of a good thing.)
5. Always look for coupons and promo codes for free shipping and additional savings.
Andrea Polk hails from Oregon and is a wife, mother, writer, Amazon Top 50 Reviewer, and more. She's also the author of the Simple Guide to Over-the-Air Free TV as well as the avid deal-seeker behind SavvySleuth.com, where she scours the web for the best online deals.
The post Savvy Shopper Gift Guide appeared first on Mohu.