Sling TV Channel Extras Offer More Cord Cutter Entertainment
As Sling TV continues to evolve, so do its channel offerings.
With Sling's base $20 a month Orange, $25 a month Blue, and $40 a month Orange+Blue Sling TV channel packages, subscribers have many great viewing options.
For cordcutters who are trying to pair down their monthly entertainment bill, Sling's basic channel packages may be enough.
But for cordcutters who crave even more, there are Extras!
Sling TV Extras
Extras are competitively priced add-on channel packages for Sling TV's base Orange, Blue and Orange+Blue channels.
Ranging in price from $5 to $15 per month, the Extra package(s) you select are an additional cost that is added onto your base subscription fee.
There are many different bundles to choose from and you can easily add as many as you like.
If you find that you no longer want extra channels or wish to change your subscription, all of that can easily be done in your Sling TV account online at any time.
Here is a list of the current add-on channel extras to help you discover even more to like about Sling TV. Description quotes from the Sling TV website. One thing to note is that for many of these add-ons, if you opt for the Sling Orange + Blue comprehensive package, the add-ons include all of the channels that would be available in either the Orange or Blue individual add-ons combined. Where there may be some variations in channels if you opt for Orange or Blue (noted below), they're all available to you with the combined package. And most of the add-on pricing stays the same with an exception being the Sports Extra.
English, Spanish & International Channel Add-Ons
Sports Extra
Dreaming of even more sports action? For $5 a month extra with Sling Orange and $10 a month with Sling Blue, you can get it! If you've splurged for the Sling Orange + Blue package, this add-on will cost you $10 per month (same as Sling Blue), but with it come all of the sports channels for Orange and for Blue (that means all of the ESPN networks and NFL RedZone, Golf Channel, and all the others the service offers).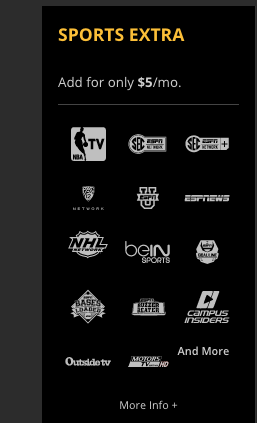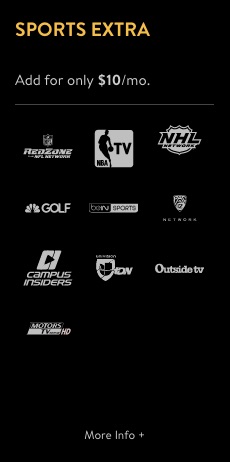 …More live football, baseball, basketball & hockey coverage, as well as sports news and analysis. Includes ESPNU, ESPNEWS, the SEC Network, NHL Network, NBA TV, and Outside TV. Plus, international soccer on beIN SPORTS and Univision Deportes Network.
Kids Extra
With on-demand content as well as live streaming channels, Kids Extra will delight families with young children for an additional $5 a month.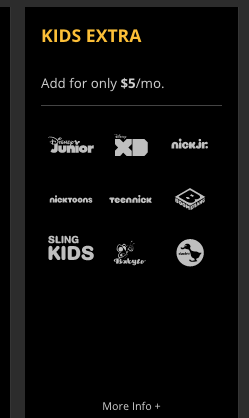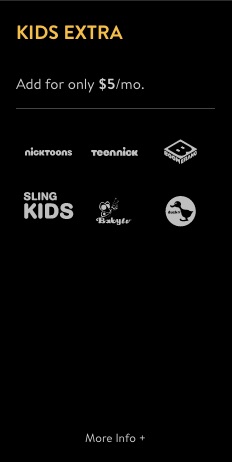 Keep the kids happy with shows like Star Wars Rebels on Disney XD, and Mickey Mouse Clubhouse and Doc McStuffins on Disney Junior.
Premium Movies: HBO, Cinemax & STARZ
Never miss another episode of your favorite premium programming again!

…Catch up on all your favorite HBO®originals with a full catalog of their on-demand content.

Cinemax has more movies than any other premium network, featuring Hollywood hits, action-packed original series, and behind-the-scenes exclusives.

Featuring bold original series and film favorites…the Starz Encore Extra brings you the perfect pairing of movie madness and obsessable TV.
Comedy Plus Extra
I want my MTV! And now you can get it on Sling TV for just $5.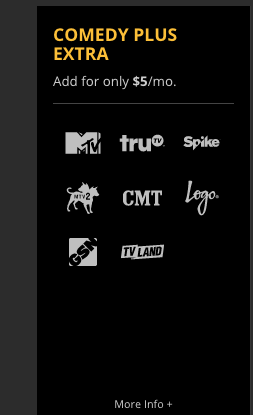 Programming that lives loud with a full offering of reality favorites, laughs and hijinks, action, and down-home classics.
Lifestyle Plus Extra
Creative cooking and do-it-yourself project ideas are just the start of what's in store if you add this $5 extra to your Sling TV subscription which includes VH1 and Hallmark channel among others.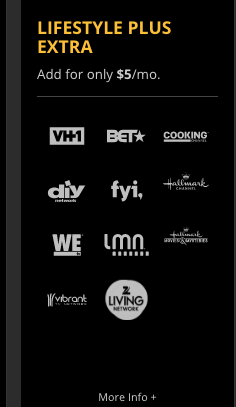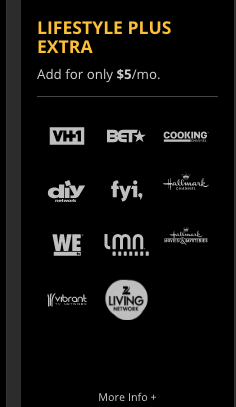 A full spectrum of life experience programming…home project shows, indulge in pop culture and reality TV, watch your favorite made-for-TV movies, and much more.
Hollywood Extra
Great movie options all month long for a mere $5.
This is the extra pack I can't do without. It's inexpensive and packed with both live and on-demand content that I find myself going back to time and time again.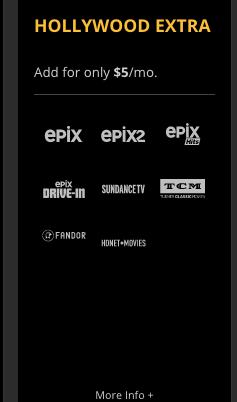 Featuring top recent movies on EPIX and EPIX 2, timeless Hollywood favorites on EPIX Hits, gritty cinema on EPIX Drive-In, independent film darlings on SundanceTV, and classic movies on TCM.
News Extra
Can't get enough news? For an additional $5 per month you don't have to with Sling TV.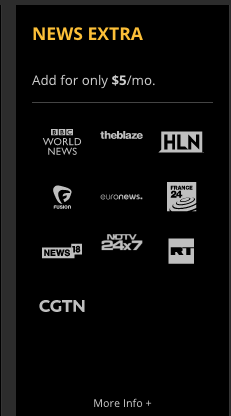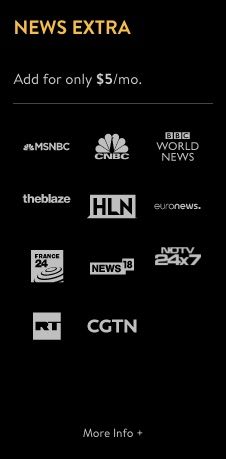 Stay current on world events with stories from around the globe, 24/7. Featuring breaking news and in-depth reporting from HLN, plus international perspectives from the top networks in Europe, India, Russia, and beyond.
Broadcast Extra
Available in limited metro markets for an additional $5 per month with either Sling Orange or Sling Orange + Blue. If you opt for Sling Blue, you'll notice there is no Broadcast Extra add-on. This is because Univision and UniMas are included in the base package, and Sling Blue does not offer ABC.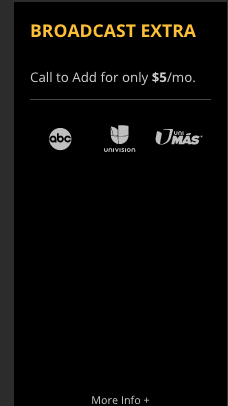 Watch top programming from your local ABC, Univision, and UniMás affiliates.  You may be eligible to get Broadcast Extra if you live in these metro areas: Chicago, Fresno-Visalia, Houston, Los Angeles, New York, Philadelphia, Raleigh-Durham, San Francisco.
World Cricket Extra
If you know that it's not just another way to play baseball, you'll want to add this $5 channel extra to get all the cricket action from around the globe.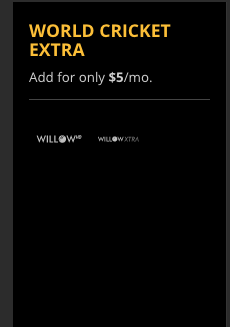 Arabic Extra
For $10 a month you get 12 channels to enjoy in this channel add-on package.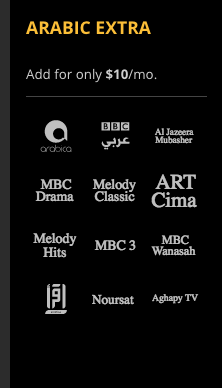 Top Arabic news, drama, family entertainment and spiritual channels.
TVGLOBO Brazilian Extra
For $15 additional per month, live TV programming from Brazil is available on all your devices with the Sling TV app.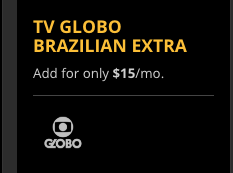 World Music Extra
If you enjoy exploring the world musically, this $5 channel extra is the deal for you!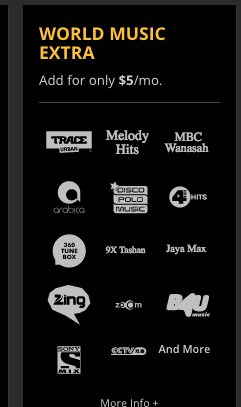 Francais Extra
A great way to practice your French for just $5 a month.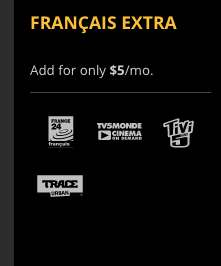 Live sports, hit shows, news & movies on demand.
Urdu-India Extra
An extra $10 a month for eight additional channels.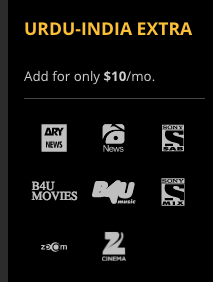 Enjoy a mix of movies, news and music on top Urdu & Hindi channels.
Hindi Extra
Who knew $5 a month could give you so much great entertainment?
Top Hindi and Bollywood content featuring movies, news, and music.
Best Of Spanish TV Extra
Get 12 channels for only $5 extra a month.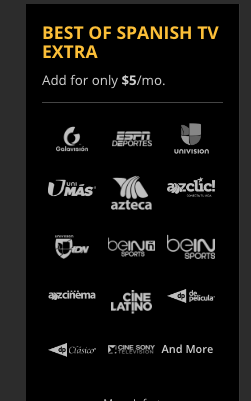 Enjoy the best of soccer, novelas, children's programming and movies for the entire family.
Mexico Extra
Seven channels for only $5 extra per month.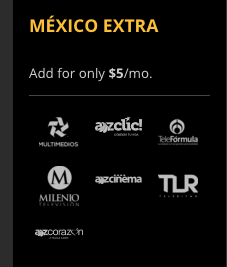 The top Mexican shows, novelas, and news.
Caribe Extra
Cruise the Caribbean for just $5 a month when you add this extra.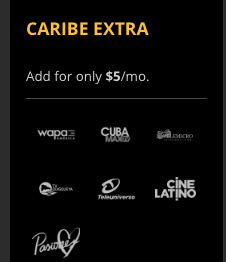 The top movies, series, news, novelas and more from Cuba and the Dominican Republic! Caribe brings you the best live TV from Spanish-speaking Caribbean nations.
Sudamerica Extra
Sports, news and shows from South America, just $5 extra per month.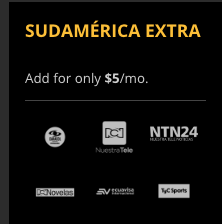 Espana Extra
Live TV from Spain, only $5 extra per month.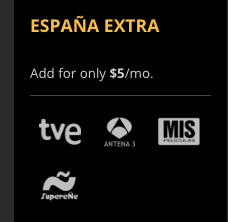 If you have yet to cut the cord and are not sure if Sling is for you, go to Untangle TV to get a personalized recommendation of cord cutting equipment and streaming services to best suit your needs.
And if you have not yet tried Sling TV, be sure to enjoy their FREE 7 Day trial of Sling Orange.
The post Sling TV Channel Extras Offer More Cord Cutter Entertainment appeared first on Mohu.