What to Watch Instead of Super Bowl XLIX: OTA TV Schedule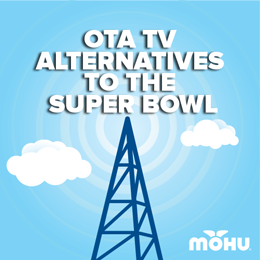 For many Americans, the Super Bowl is an exciting day of athleticism and high-dollar entertainment. For many others, however, Super Bowl Sunday is the day when the country collectively goes crazy and football fever takes over the television.
If you're in the second camp, you might be at a loss for what to do. A lot of fuss is made about the Super Bowl, but what about everyone else? Odds are you won't hear about programming blocks trying to compete with the Super Bowl, but in truth you have a lot of programming options available to you.
Believe it or not, you don't need an expensive and bloated cable subscription to enjoy a football-free Super Bowl Sunday. You'll be just fine with an Over-the-Air (OTA) antenna! (Which, if you do want to peek in periodically, here's why an antenna is the best way to watch Super Bowl XLIX.)
If you're unfamiliar with the term OTA antenna, it's just an antenna that picks up the digital signal transmitted by broadcast networks (i.e. ABC, NBC, CBS, and FOX). As far as broadcast networks go, NBC will be occupied with the Super Bowl; but you still have three other major broadcast television stations to choose from.
To help you make a more informed programming decision, let's check out our options for what to watch instead of Super Bowl XLIX on each network this Sunday, February 1st.
What's on ABC
6:30-7 PM EST: World News Tonight – Life moves pretty fast; so take a half-hour to sit and digest the current events of the day.
7-9 PM EST: America's Funniest Home Videos – Before there was YouTube and Tosh.0, there was America's Funniest Home Videos. If you just want to laugh and relax with the family, there's nothing better than a little AFV.
9PM-11PM EST: Shark Tank – Tap into your inner entrepreneur with Shark Tank. Watch as entrepreneurs and inventors put it all on the line to secure the much-needed seed-money to turn their startup into the next Fortune 500 company.
What's on CBS
7PM-8PM EST: 60 Minutes – Delve deeper into the headlines of the day with 60 Minutes. If a half-hour of news is not enough, then 60 Minutes is what you are looking for to supplement your dose of ABC World News Tonight.
8PM-9PM EST: NCIS – Join Gibbs and his colorful crew as they get to the bottom of whatever mystery is cooking for them this week.
9PM-10PM EST: CSI – Keep the mystery going with the granddaddy of all forensic crime dramas, CSI. Find out why it's still one of the most popular shows on television after 14 years on the air.
10PM-11PM EST: Criminal Minds – Join the FBI's most elite team of profilers as they try to stay one step ahead of the country's worst serial killers and psychopaths.
What's on FOX
7PM-7:30PM EST: Bob's Burgers – Who says cartoons are for kids? Join Bob and his weird family as they try to squeak by and keep the their struggling burger shop open.
7:30PM-8:30PM EST: The Simpsons – It's one of the most popular and longest running television shows in American history. Sit back, relax, and laugh with America's favorite animated dysfunctional family.
8:30PM-9PM: Brooklyn Nine-Nine – One of the surprise hits of the 2013/14 television season, Brooklyn Nine Nine stars Andy Samberg as a goofball detective with a penchant for justice.
9PM-9:30PM: Family Guy – It's loud, raucous, obscene, and hilarious. Not for the easily offended, Family Guy will either have you rolling on the floor laughing or writing a letter of complaint to the network.
9:30PM-10PM: Bob's Burgers – If you missed the first airing of Bob's Burgers, now's your second chance to catch this hilarious show!
You have plenty of options when it comes to watching television during the Super Bowl. Even if network television just isn't doing it for you, you can always just turn on Netflix, Hulu, or Amazon Prime Instant Video and have a marathon of your favorite show.
Just because you don't like cable or football doesn't mean you have to be bored on Super Bowl Sunday; all you have to do is know where to look.
Dave Kennedy is a long time cord cutter who became increasingly frustrated with the high cost of Cable TV and decided to make a stance. In 2011 he launched KilltheCableBill.com, a site dedicated to helping people save money through providing simple, cost-effective cable TV alternatives. Since then, David has helped 1,000s of people cancel their cable subscription while keeping the shows they love.
The post What to Watch Instead of Super Bowl XLIX: OTA TV Schedule appeared first on Mohu.